Body Wraps, Scrubs, Contouring/Sculpting
Body Wraps, Scrubs, Contouring/Sculpting
Body Scrubs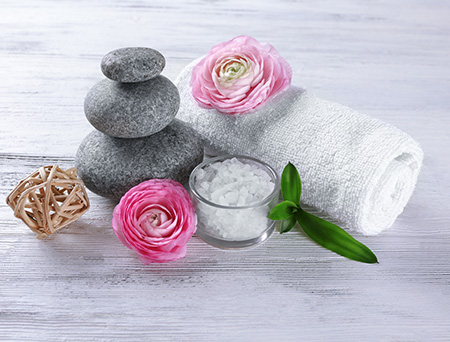 Exfoliate, hydrate and rejuvenate the Caribbean way with this luxurious and exotic 3 step exfoliation body treatment. Indulge your senses in the intoxicating aromatic blends of our cocktail inspired detoxifying scrubs as all natural ingredients and healing hands perfectly combine to help you drift away to your very own personal Paradise. This treatment will not only leave you feeling relaxed and refreshed but your skin will feel revived and restored. Before you know it, you'll be basking in your vibrant luminous beach glow.
Service includes: Warm Facial Towel, Scalp massage, Dry Loofa Exfoliation, Our Signature Scrub of your choice, Wet Loofa Exfoliation, Warm Towel Compress & Gentle Moisturizing Massage.
Whole Body Detox Scrubs Available: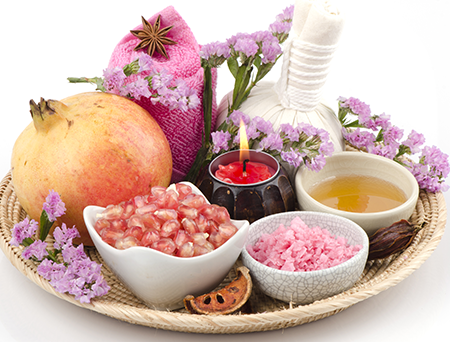 Ocean Breeze Seasonal Body Scrub
Let yourself be swept away to the relaxing white sand beaches of the Cayman Islands. Pick your Choice from our selection of 100% relaxing essential oils aromatherapy, which will be added to this perfect blend of all-natural body scrub. Enjoy that Caribbean Island glow leaving your skin feeling rejuvenated, smooth and moisturized.
Vanilla Coffee and Cane Sugar
Originated in Montego Bay Jamaica using an old family recipe. It's packed with Antioxidants and anti-aging ingredients. Our scrubs are natural, vegan and cruelty-free and will leave your skin silky smooth.
Caribbean Exotic Coconut
This Caribbean creation using Nature's Milk, Exotic shave coconut and Brown Sugar will surely lock in moisture and exfoliate your skin removing dead skin cells while also softening your skin. The ingredients of this scrub are known to delay signs of ageing while also treating skin ailments such as "severely dry skin".
Body Scrubs
Wellness Member
$105
Reg. Price
$115
Body Wraps
Indulge in one of our full body Caribbean mud wraps designed to improve the texture and appearance of your skin by assisting to rid your body of excess fluids and toxins. Benefits of our Caribbean body wraps may include detoxification, boosting of the lymphatic system and metabolism, body contouring, inch-loss, skin tightening and skin softening. While you're indulging in our signature body wraps, try adding our SAUNA service to your Caribbean Body Wrap and See/Feel the difference. A very light moisturizing massage will end your body wrap.
Whole Body "Body Wraps" Available:
Caribbean Dead Sea Mud Wrap:
Harvested from the waters of the Dead Sea, this body wrap treatment is well known for its healing properties and very high concentration of mineral rich content of potassium, magnesium, sodium, bromine and calcium, essential minerals for your body's balance. Our clients who have tried this body wrap have mentioned relief from aching joints, stiffness, skin problems and many other toxic ailments. It is also beneficial for sleeplessness, anti-aging, skin tone, cellulite reduction, arthritis, stress, fatigue, acne, eczema, psoriasis, rheumatism and detoxifying.
Revitalizing Seaweed Wrap:
Our Seaweed body wrap helps to eliminate toxins from your body, removes dead skin and moisturizes the skin. It will also improve your skins elasticity, regeneration, reduce cellulite and improve body contouring.
Sulfur Volcanic Mud Wrap:
Originated in Soufriere St. Lucia from the Caribbean's only Drive-in Volcano, this Body Wrap has soothing and healing powers from St. Lucia's mineral-rich volcanic sulfur mud. On your next trip to the Caribbean, you'll want to visit Soufriere St. Lucia and give the Sulphur Springs a try.
Body Wraps
Wellness Member
$105
Reg. Price
$115
Body Contouring / Sculpting
Body Sculpting 1
Ultrasound/Cavitation with Skin Tightening and Vacuum Therapy. This session includes 2 areas only at a time per Day. Clients can pick the 2 areas preferred. Clients can also return to the spa after 72 hours for additional treatment. Please Call for more details if needed.
30 Minutes: $75
Colombian Wood Therapy
This service can be added to Body Sculpting 1. Please Call for more details if needed.
15 Minutes: $25
Body Sculpting 2
Includes All 4 (Ultrasound/Cavitation, Skin Tightening, Vacuum Therapy and added Colombian Wood Therapy. Please Call for more details if needed.
45 minutes: Reg Price $100
Body Sculpting 3
Includes All 4 (Ultrasound/Cavitation, Skin Tightening, Vacuum Therapy and added Colombian Wood Therapy). Please Call for more details if needed.
Package of (4) for all of the above is $350. That's a $50 PRICE SAVINGS. New Year New YOU Special!
Cellulite Treatment
Includes Cavitation, Vacuum and Metal Therapy using special body Sculpting Gel and Oils. Please Call for more details if needed.
Front of upper legs (30 mins): $60
Back of upper legs (30 mins): $75
Ice Sculpting Therapy
Includes our Body Sculpting technique that uses cold temperatures and a unique combination if organic herbs and essential oils in clay form. The cold temperature from the ice penetrates deep into fat cells, causing them to contract and shrink. This session also includes Metal Therapy. Please Call for more details if needed.
(1 Hr) Session: $250 FULL BODY
Butt Enhancement/Plumping Treatment
30 mins: $60
Yeso Body Wraps
Coming Soon
Lymphatic Drainage Massage / Advance Post Op MLD
What Is Lymphatic Drainage Massage? Manual lymphatic Drainage (MLD) opens up the lymphatic channels and encourages the fluid flow through its pathways; this aids elimination of excess fluid from the swollen tissues hence relieving the pain and speeding up the healing.
Patients whom have recently undergone surgery can also benefit from lymphatic drainage massage. Abdominal and thigh liposuction, breast augmentation, body sculpturing, neck, face and eye lifts are becoming more and more sought surgeries. Swelling, bruising and pain are very common signs after the operation. Sometimes the healing period takes so long that the patients become home bound for weeks.
Our tailored treatment reduces post operative recovery from 9-12 months down to 8 weeks-3 months. BOOK your Sessions with us Today.
Each session lasts for 50 minutes-1 hour. The treatment can start as soon as the next day after surgery. It is advisable to have an immediate intensive course of 8-12 sessions, either every other day or everyday treatments. You should then follow up with maintenance treatments.
Take ADVANTAGE of our significantly reduced prices when you purchase multiple sessions.

The cost is: 60 Mins $119 – 1 Massage
5 Massages $470 ($94 Per Massage Session)
10 Massages $940 (You're Saving $250)
15 Massages $1410 (You're Saving $375)
20 Massages $1880 (You're Saving $500)
Wellness Member
Reg. Price
Aromatherapy: Special blends Treatment:
$8
$10
Caribbean Peppermint Scalp Massage:
$13
$15
Caribbean CBD Infused to your Massage back only:
$30
$32
Muscle Soothing Therapy:
$10
$12
Add Caribbean Hot or Himalayan Stones to your massage Back only:
$10
$12